The Others (2001)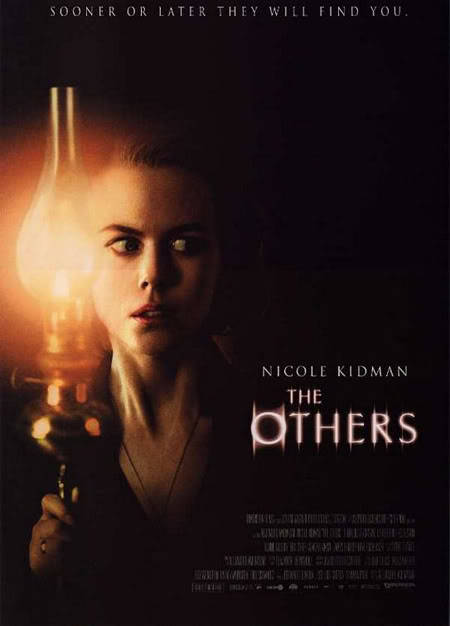 Director and Writer: Alejandro Amenábar
Xvid AVI | 640x368 | MP3 | Color: Color | Language:
English
| Subtitel: None | 700 MB | 101 min | Genre: Horror | Mystery | Thriller l Country: USA | Spain | France | Italy
Cast:
Nicole Kidman ... Grace Stewart
Fionnula Flanagan... Mrs. Bertha Mills
Christopher Eccleston... Charles Stewart
Alakina Mann... Anne Stewart
James Bentley... Nicholas Stewart
Eric Sykes... Mr. Edmund Tuttle
Elaine Cassidy... Lydia
Renée Asherson... Old Lady
Gordon Reid... Assistant
Keith Allen... Mr. Marlish
Michelle Fairley... Mrs. Marlish
Alexander Vince... Victor Marlish
Ricardo López... Second Assistant
Aldo Grilo... Gardener
A woman named Grace retires with her two children to a mansion on Jersey, towards the end of the Second World War, where she's waiting for her husband to come back from battle. The children have a disease which means they cannot be touched by direct sunlight without being hurt in some way. They will live alone there with oppressive, strange and almost religious rules, until she needs to hire a group of servants for them. Their arrival will accidentally begin to break the rules with unexpected consequences.
IMDb
http://www.imdb.com/title/tt0230600/
http://www.filesonic.com/file/1392428694/The.Others.2001.part1.rar
http://www.filesonic.com/file/1392428784/The.Others.2001.part2.rar
http://www.filesonic.com/file/1392428794/The.Others.2001.part3.rar
http://www.filesonic.com/file/1392428774/The.Others.2001.part4.rar
http://www.filesonic.com/file/1392431924/The.Others.2001.part5.rar
http://www.filesonic.com/file/1392429844/The.Others.2001.part6.rar
http://www.filesonic.com/file/1392429754/The.Others.2001.part7.rar
http://www.filesonic.com/file/1392428684/The.Others.2001.part8.rar
http://www.megaupload.com/?d=6TYY3MEI
http://www.megaupload.com/?d=B4ABY4T2
http://www.megaupload.com/?d=9E4N6HFR
http://www.megaupload.com/?d=BQDZV3ZM
http://www.megaupload.com/?d=MWC2IR39
http://www.megaupload.com/?d=M5ZNI2PN
http://www.megaupload.com/?d=IF4PYKLF
http://www.megaupload.com/?d=BNX1HPG3
No Pass