Du poil sous les roses (Hair Under the Roses) (2000)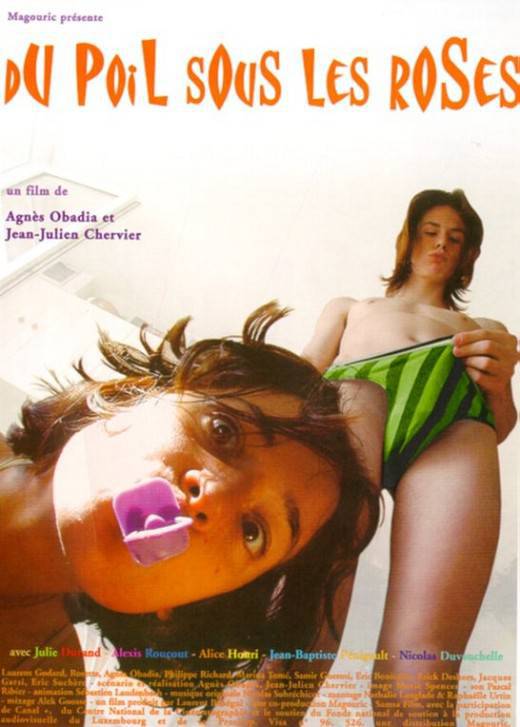 Directors and Writers: Jean-Julien Chervier, Agnès Obadia

Stars: Julie Durand, Alexis Roucout and Alice Houri 1 win

Video: XVID (.avi) | 720x576 | FPS: 25 | Sound: mpga | Color: Color | Size: 783 MB | Runtime: 1:21:45 | Country: France | Luxembourg | Language:

French

| English

| Subtitles:

English | Spanish

| Genres: Comedy
IMDb:
http://www.imdb.com/title/tt0250343/
Storyline:
The discovery of sexuality through the eyes of a group of teenagers.
This is one of the funniest films I saw this year. About 2 teenagers looking for sexual experience, and how they are to be become together. The actors are great and natural. This is a lot more realistic as American Pie or any other US High School comedy. American people would be shocked to see how easy French guys do their cinema with more open scenes and no false moral at all. Two thumbs up ! The main actress (Roudoudou) is very charming. Hope we'll see more of these in the future.
Read this great comment in IMDb from a good Member in this Blog!
The imperative of sex in contemporary society
, 20 December 2010
Author:
Arcadio Bolaños
from Peru
Obadia & Chervier's film confronts teenage sexuality through the analysis of contemporary society's demands. Every aspect of life demands now utter success; and sex has become yet another facet in which one must either triumph or perish.
The film focuses mainly in two characters: Roudoudou, a lightheaded and cheerful girl who is preoccupied with sexual matters that no one can answer plainly. School education is not fit to the inquiries of young minds; the expert's opinion (in this case her gynecologist) is too cold and detached from the actual sexual act. The other character is 15-years-old Romain, a seemingly reclusive boy whose only friend is the son of her mother's lesbian partner.
Our vision of sex has evolved and devolved throughout time. Sex has been interpreted from a healthy perspective of tolerance in Ancient Greece and in the first two centuries of the Roman Empire, to a more restricted or condemned approach in medieval times; it has even been a force that needed to be subjugated and canalized into the path of prosperity and production in the Victorian Age. Nonetheless, sex is today as complex as ever, perhaps even more complicated as this film suggests.
Jacques Lacan's followers have theorized that in contemporary society the individual has become the main and sole purpose of the being, whereas in past times a social group or even a shared idea would have been of paramount relevance. The individual, of course, must be defined negating the other. Thus, contemporary approach to sex consists in nullifying the otherness of the sexual partner. Sex is no longer an intimate or powerful moment, but rather the reification of the individual's Lacanian imperative of jouissance. The film provides more than enough arguments to uphold this analysis.
As philosopher Alan Badieu explains, we live in a society of symptom and simulacrum. Sex is a powerful act and as such is deemed dangerous, so the only way to get rid of it is through simulacrum. Certain forms of contemporary pornography nurture the simulacrum to the point it becomes more important than sex itself. In "Du Poil Sous les Roses", the viewer witnesses yet another form of simulacrum, although a saner one, in two scenes: during the first one Roudoudou overhears his brother having "sex phone" with her best friend. In the second one, Roudoudou catches Romain in the middle of a "sex call". Although in the movie the strength of the simulacrum lingers on so fiercely that sex is replaced and no real intercourse takes place (in fact sexual intercourse between the boy and the girl will become an excruciating moment they cannot surmount easily). The symptom symbolizes the discontents of civilization, and as such here the heterosexual normative works only to seclude Romain and his friend from accepting motherly lesbianism or even homosexuality. As it can be seen in the mutual masturbation scene between the two boys, homosexuality is quickly dismissed as a valid option. What do the directors try to tell us with this? Perhaps that in a world saturated with information we no longer seek the truth, we just comfortably adapt ourselves to the simulacrum laid ahead in front of us. Even after all the stimulus teenagers currently get, their knowledge about sex still doesn't amount to much.
http://www.megaupload.com/?f=5FPF9FW0
No Pass