La montagna del dio cannibale - The Mountain of the Cannibal God (1978)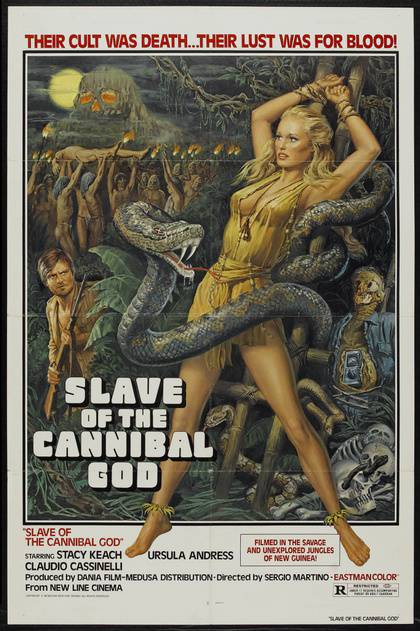 Director: Sergio Martino
Writer: Cesare Frugoni
Stars: Ursula Andress, Stacy Keach and Claudio Cassinelli
Video: H264 (.mp4) | 864x368 | FPS: 23.976 | Sound: mp4a | Color: Color | Size: 845 MB | Runtime: 1:42:55 | Country: Italy | Language:
English
| Subtitles: Link incl. | Filming Locations: Central Province, Sri Lanka | Genres: Adventure | Horror | DVD Cover and Sticker incl.
Incl. second CD:
Legacy of the Cannibal God 1978 with English Subs
Subs here:
http://www.subtitleseeker.com/77945/The+Mountain+of+the+Cannibal+God/Subtitles/
IMDb:
http://www.imdb.com/title/tt0077945/
Storyline:
Susan Stevenson and her brother Arthur get off a plane somewhere in South America, allegedly in search of her husband. They team up with, Dr. Edward Foster. The three head into the jungle, get in more than a few fights amongst themselves, and view lots of gratuitous animal cruelty, notable an iguana getting eviscerated.
http://www.megaupload.com/?d=WG0OJYR3
http://www.megaupload.com/?d=QBMPS0ET
http://www.megaupload.com/?d=2PNQ3TQG
http://www.megaupload.com/?d=5IN6Q4UF
http://www.megaupload.com/?d=2DYDYLPS
https://www.rapidshare.com/files/3018807556/The.Mountain.of.the.Cannibal.God.1978.ATO.part1.rar
https://www.rapidshare.com/files/1356781748/The.Mountain.of.the.Cannibal.God.1978.ATO.part2.rar
https://www.rapidshare.com/files/2403119337/The.Mountain.of.the.Cannibal.God.1978.ATO.part3.rar
https://www.rapidshare.com/files/2100196953/The.Mountain.of.the.Cannibal.God.1978.ATO.part4.rar
https://www.rapidshare.com/files/1449412808/The.Mountain.of.the.Cannibal.God.1978.ATO.part5.rar
http://www.filesonic.com/file/1645868851/The.Mountain.of.the.Cannibal.God.1978.ATO.part1.rar
http://www.filesonic.com/file/1645868821/The.Mountain.of.the.Cannibal.God.1978.ATO.part2.rar
http://www.filesonic.com/file/1645879411/The.Mountain.of.the.Cannibal.God.1978.ATO.part3.rar
http://www.filesonic.com/file/1645872301/The.Mountain.of.the.Cannibal.God.1978.ATO.part4.rar
http://www.filesonic.com/file/1645868394/The.Mountain.of.the.Cannibal.God.1978.ATO.part5.rar
http://www.fileserve.com/file/buXx6hh
http://www.fileserve.com/file/NgsPEBh
http://www.fileserve.com/file/JN5XVk6
http://www.fileserve.com/file/uh4C2KC
http://www.fileserve.com/file/jzu2FGY
No Pass