IMDB Link:
http://www.imdb.com/title/tt0064425/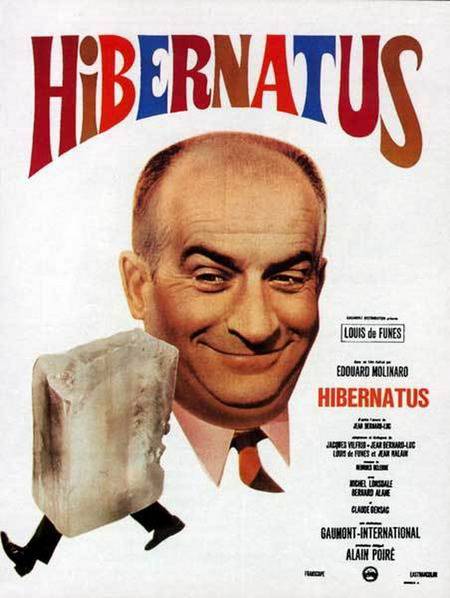 Runtime: 82 min
Country: France/Italy
Language: French/English/Danish
Color: (Eastmancolor)
Aspect Ratio: 2.35 : 1 more
Sound Mix: Mono
The frozen body of Paul Fournier is discovered in Greenland where he had disappeared during a scientific expedition in 1905. Perfectly conserved he is brought back to life in the 1960s. His descendants take care of him: to spare him the cultural shock they behave so to make believe it's 1905 and they are his cousins, uncle...
Louis de Funès ... Hubert de Tartas
Michael Lonsdale ... Le professeur Édouard Loriebat (as Michel Lonsdale)
Claude Gensac ... Edmée de Tartas
Bernard Alane ... Paul Fournier
Annick Alane ... Mme Crépin-Jaujard, la mère d'Evelyne
Olivier De Funès ... Didier de Tartas
Eliette Demay ... Evelyne Crépin-Jaujard
Martine Kelly ... Sophie
Jacques Legras ... L'avocat
Pascal Mazzotti ... Le professeur Bibolini
Claude Piéplu ... Le secrétaire général
Paul Préboist ... Charles
Yves Vincent ... Crepin-Jaujard
Evelyne Dassas ... L'assistante de Bibolini
Monita Derrieux ... Une infirmière
Downloads:
https://www.rapidshare.com/files/3281372355/Hibernatus.1969.ATO.part1.rar
https://www.rapidshare.com/files/3104454610/Hibernatus.1969.ATO.part2.rar
https://www.rapidshare.com/files/488334875/Hibernatus.1969.ATO.part3.rar
https://www.rapidshare.com/files/3580104202/Hibernatus.1969.ATO.part4.rar
https://www.rapidshare.com/files/2616253941/Hibernatus.1969.ATO.part5.rar
https://www.rapidshare.com/files/2177890465/Hibernatus.1969.ATO.part6.rar
https://www.rapidshare.com/files/1468752168/Hibernatus.1969.ATO.part7.rar
https://www.rapidshare.com/files/1274221325/Hibernatus.1969.ATO.part8.rar
No Pass